Covid-19 Statement from Amaizing Golf- Sheryl Maize
We continue to take Covid-19 seriously and will abide by the latest CDC, MN State & Federal Governments guidlnes to ensure a SAFE & FUN learning environment. We will continue to sanitize teaching aids between students and the nature of golf makes social distancing easy.  If you feel comfortable wearing a mask, please do.  My #1 priority is the safety of my students and staff.  I am excited that GOLF is still one of the Best  & Safest activities you can do. I hope to see you on the Lesson Tee soon!
Sheryl Maize
2019 LPGA National Teacher of the Year
           
2021 Adult Golf Lessons & Coaching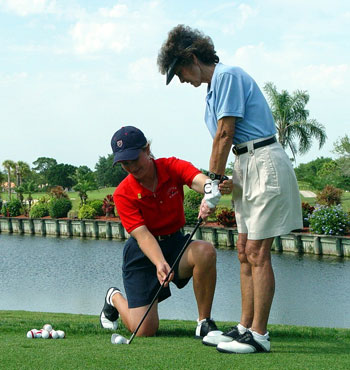 | | |
| --- | --- |
| Lesson Availability Starting | May 17, 2021 |
| Monday – Thursday | 8:00am – Dark |
| Fridays | 8:00am – 6pm |
| Saturdays | 8:00am – 1:00pm |
 
Adult Private Lessons –

2021 Rates

 
 
30 Minute Lesson
               $80
Series of 3 – 30 Minute Lessons
             $225
50 Minute Lesson
             $135
Series of 3 – 50 Minute Lessons
             $375
Series of 5 – 50 Minute Lessons
             $575
*All Lessons Must Be Completed by Oct 31, 2021*
 
Have your own group?  

| | | |
| --- | --- | --- |
| Semi-Private 50 Minute Lessons |   | Series of 3 |
| 2 People – cost per person |  $85 | $240 |
| 3-4 People – cost per person |  $60 | $165 |
| 5-6 People – cost per person |  $45 |  $120 |
Welcome to Golf Package ~ $275.00
This special package is ideal for the new golfer or any player looking for a refresher.  It includes (1) 50 minute private lesson plus (2) 30 minute follow up lessons.  For new golfers we will cover basic short game & full swing fundamentals plus equipment, basic terminology & golf course etiquette. This package will increase your knowledge and comfort level.  Clubs will be provided if needed. For the experienced golfer, lesson time will be dedicated to where it's most needed. Text Sheryl to schedule:  612-802-1691
The Tune Up Package ~ $350.00   
This package is designed to work on what you need most. Whether you are a seasoned player or new to the game,  we start with a (1) 50 minute private lesson to assess your game followed by (3) 30 minute follow up lessons. Video analysis is included if deemed helpful!  Text Sheryl to schedule: 612-802-1691
Want to maximize your Practice Time & make sure you are Practicing Correctly?  Discover how to practice with purpose while honing your golf skills under the watchful eye of your professional in one of the Training/Practice Sessions listed below. Add 4 Practice Training Sessions to any series of lessons for
FREE App~  After going through Dr. Rick Jensen's Mastering the Mental Game Course this winter, I know his FREE app will help identify practical ways to help you improve the mental and emotional aspect of your game! Students are encouraged to download Dr. Rick Jensen's Coaching Golf's Mental Skills FREE app for your iPhone or iPad. After taking a short Player Assessment click "Send to Coach" and fill in my email address: Amaizing68@hotmail.com  You will receive a brief outline of your tendencies under pressure and I will receive and in depth report with ways to help you "Master the Mental Game"!
                                 
Sheryl is excited to be one of first LPGA professionals to offer this comprehensive "Welcome to Golf" 6 hour program! If you are a new or a relatively new female golfer and don't want to be left behind when you family or coworkers head to the course, then take your first step in your journey to learn, play and ENJOY the game of golf. You will learn golf terminology, etiquette pertaining to various parts of the game, equipment overview, foundational golf skills and most importantly you will be equipped with the confidence required to get on the course. You will be given handouts for each session and will have the opportunity to go on the course for instruction during the final session!
Cost: $225     per session      This class fills quickly, grab a friend and sign up today!
Each session consists of 6 hours of instruction, including on-course time, handouts plus a free pass for 9 holes!
Session I  ~     Mon  May 17,24, June 7,14 @ 5:45-6:45pm  & June 21* @ 6:30-8:30pm – FULL
Session II  ~    Mon  May 17,24, June 7,14* @ 7-8:30pm – FULL
Session III ~  Tues/Thur  May 18,20,25,27 @ 12-1pm  &  Tues, June 1* @ 6:30-8:30pm – FULL
Session IV ~  Mon/Wed  May 17,19,24,26, June 2 @ 11:15-12:15pm & Wed. June 9 @ 7:45-8:45pm – FULL
Session V – Mon   June 28 July 12, 19, 26   7-8:30 pm – FULL
Session VI – Mon  June 28, July 12,19,26 5:45-6:45pm Aug 6:30-8:30 pm – FULL
Session VII ~ Mon Aug 9,16,23,30 @ 6:30-8pm
Golf 101 Waitlist –
Click Here to get on Wait List
Next Step~ LPGA Golf 201 – 6 hours of continuing instruction focusing on Full Swing, Short Game, Course Management, and Purposeful Practice Techniques! This fun class is designed for those who have completed LPGA Golf 101 or have prior golf experience. A 9 hole pass is included.
Cost: $225.00
Session 1    Thurs              May 20,27,June 3,10 @ 6:15-7:15pm  &  June 24@ 6:30-8:30pm*. FULL
Session 2    Tues/Thurs     June 1, 3, 8, 10 @ 1:00-2:00pm   &   June 15 @ 6:30-8:30pm*    FULL
Session 3   Tues               July 27, Aug 3,10,17  @ 7-8:30 pm  FULL
*Final session includes range & on course time.
Golf 201 July 27th Sign Up Link
City of Lakeville Park and Rec Adult Group Golf Lessons offered by Sheryl Maize
2021 Golf Fundamentals Lessons for Adults
Looking to refresh or improve your fundamentals? This class is for you~ Regardless of your skill level, this class will focus on improving your putting, chipping, pitching and full swing in a FUN safe environment. Basic rules, etiquette and equipment will be covered. Lessons are geared for adults 16 and older and will meet for (4) 1 hour sessions. Must register & pay through the City of Lakeville. First session meets at the PUTTING GREEN.
T & TH   May 18,20,25,27            @ 10:45-11:45am

 FULL

W & F    May 19,21,26,28             @ 12:30-1:30pm  

FULL

T & TH   May 18,20,25,27             @ 7:30-8:30pm    

FULL

W           May 19,26, June 2,9        @ 6:30-7:30pm    

FULL