Female Fit. Feel. Function.
Vimhue hats designed by Women for Women. Super comfy, lightweight & SPF 50. 
If you are a hat girl, like me you will LOVE these hats! 
I finally found my absolute favorite hat! Not only can I wear a super high ponytail or bun with these super cute Vimhue hats, but they are can't say enough about this company and their hats.  A wonderful group of women decided to redesign the traditional athletic cap in order to support and empower women in their athletic endeavors. Their hats feature lightweight, moisture-wicking, sun-protective SPF50 materials and are designed specifically for women and girls!  Vimhue hats provide endless combinations of ways to wear your hair. Super fun. Super cute. Super functional. 
The high pony is my favorite, especially on hot days… keeps me cool and looks super cute! 
Remember: Enter coupon code Amaizing10 at checkout – on mobile devices click "show order summary" to find the place to enter the discount code.
Special Discount Code:  Amaizing10 ~ good for 10% off of Vimhue hats designed by Women for Women! 
VimHue introduces patent-pending caps engineered exclusively for women, expect Female Fit. Feel. Function. No compromise. Progress brings a "made by women for women" product that delivers on comfort, function and style. VimHue caps are UPF 50+, moisture-wicking, feather-light, and allow for hair freedom and expression.

www.vimhue.com
Titleist Performance Institute (TPI) Fitness Evaluation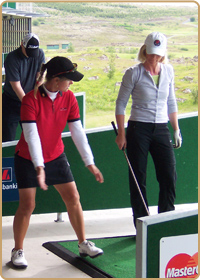 Fix your body, fix your swing!
"Your Fitness Level will set the ceiling  for your golf potential" ~ Dr. Rick Jensen
Evaluation Includes:
Physical evaluation
Swing evaluation with video analysis
Videos & Written discroptions of your Golf specific workouts that can be done at home
The evaluation will take 1 hour. Afterwards, you will be emailed a detailed physical evaluation and an access code to the TPI professional website where you will find the best cutting edge golf, fitness and nutrition information available today, plus a calendar listing your specific workout sessions. Each exercise/stretch will have a written explanation, pictures and videos you can watch. The program is tailored to fix your specific weakness whether you lack strength, balance, mobility or stability.
So far, my students have been amazed at the differences they feel after just 2 weeks! Not only will it help you make the swing changes you've always wanted, but you'll feel better overall! Sign up for your TPI evaluation today by calling or emailing Sheryl!
 TPI Information (32 KB)
Want to gain that Mental Edge?
Check out the Mental Golf Workshop Profile! Numerous Tour players and top amateurs are using the program to take their games to the next level. After filling out a brief on-line questionnaire, you will receive an in-depth analysis of the following areas:
Your Unique Golf Temperament
Course Management
Pre-round Preparation
Playing Shots
Working with Instructors
Golf Fitness Tendencies
The program will identify concrete ways for you to improve in each key area. After taking the Profile I was truly impressed with how accurate and helpful it was!
Mental Golf Profile Cost: $79.95
Sign up for a Series of Lessons and the cost is just $65~Ask Sheryl for a special discount code Click here for more information.